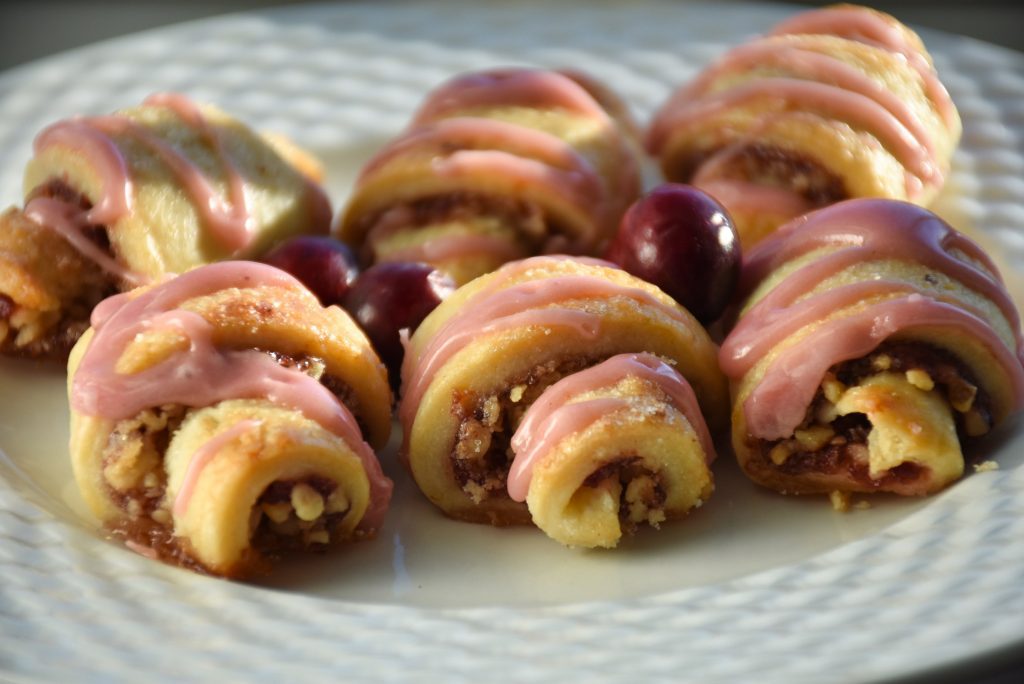 Cranberry sauce moves from roast turkey side relish to pastry superstar in this rugelach recipe celebrating the delicious intersection of Thanksgiving and Hanukkah.
I can't think of a better use for that leftover cranberry sauce than to become a filling and glaze for rugelach. And although these make a beloved sweet for the festival of lights, they can shine equally beautifully on your Thanksgiving spread. They are sure to charm anyone you share them with.
Besides offering beguiling flavor, cranberries and rugelach unite two long traditions. Those ruby-colored berries with a burst of tartness are an enduring icon of the Thanksgiving meal, and were likely present at some of the earliest versions of the celebration in one form or another.
Rugelach, of course, have their own enduring place as a beloved Jewish sweet. The cookie-pastry reached American shores in the recipe collections of Ashkenazi immigrants from Europe, evolving in the United States from a yeast dough to today's predominant dough made of cream cheese—which lends the pastries the tender flakiness that makes them so wonderful. These pastries have become one of the most well-known Jewish desserts, enjoyed at Hanukkah especially, but welcome anytime.
Alone, these icons are special, and combined, they are spectacular, folding together beloved traditions into something familiar yet also new. The appealing red and pink accents and sweet bright berry flavor made these an immediate hit, and cranberry rugelach will join my regular rotation of apricot, chocolate, and Nutella rugelach—even when Thanksgiving and Hanukkah aren't shoulder to shoulder on the calendar.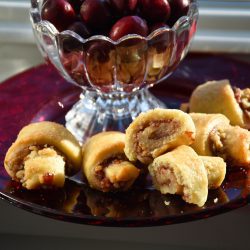 Cranberry-Walnut Rugelach
Sweet-tart cranberry sauce layers in with walnuts and a buttery, flaky pastry dough to make festive Thanksgiving and Hanukkah rugelach. Quickly reducing the cranberry sauce before filling the rugelach helps boost the flavor. The glaze adds another hint of cranberry sweetness and a pop of creamy pink, but can be omitted. A pizza wheel is handy for cutting the dough wedges.
Ingredients
Pastries
1

package (8 ounces) cream cheese, room temperature

2

sticks (8 ounces) unsalted butter, room temperature

¼

cup

sugar plus ½ cup for the filling and extra for sprinkling

¼

teaspoon

kosher salt

1½

teaspoons

vanilla extract

2½

cups

all-purpose flour, plus more as needed

1

cup

jellied (not whole berry) cranberry sauce

1

teaspoon

freshly squeezed orange juice

2/3

cup

walnut halves and pieces, finely chopped

1

egg lightly beaten with 1 tablespoon milk and a pinch of salt for the egg wash
Cranberry Glaze (optional)
2

tablespoons

jellied cranberry sauce

1

teaspoon

freshly squeezed orange juice

1

cup

confectioners' sugar
Instructions
In a large bowl, cream the cheese and butter with an electric mixer until smooth and light. On low speed, blend in the ¼ cup sugar, salt, and vanilla. Stir in the flour until just combined, adding additional flour as needed to make a cohesive dough.

Divide the dough into four equal pieces and roll each into a ball. Between layers of wax paper, roll each ball into an approximate 9-inch circle. Wrap and chill the rolled dough separated by sheets of wax paper for at least one hour or overnight.

In a small saucepan over medium-low heat, stir together the cranberry sauce and orange juice. Cook, stirring frequently as the mixture bubbles, until reduced to about 2/3 cup, 5 to 8 minutes. Let cool to room temperature. If not using immediately, refrigerate until ready to use.

For the filling, combine ½ cup sugar and the walnuts and set aside. Line a large baking sheet with parchment paper and set aside.

Working with one dough circle at a time, evenly spread about 2 tablespoons of the reduced cranberry sauce over the dough to about ½ inch from the edge. Spread a scant ¼ cup of walnut mixture over top. Cut the circle like a pizza into 12 wedges. Starting at the wide edge, roll up each triangle, and tuck in any pointy ends to keep them from burning.

Place the formed pastries seam side down on the prepared baking sheet, and repeat with remaining dough circles. Freeze about 30 minutes.

Meanwhile, preheat the oven to 350°F.

Brush each pastry with egg wash and sprinkle lightly with sugar. Bake for 25 to 30 minutes, until lightly browned. Remove from the oven, and let rest on the baking sheet for 5 minutes before transferring rugelach to a wire rack to cool completely.

To make the glaze, heat the cranberry sauce in the microwave or on the stovetop until lukewarm. Stir in the orange juice, then gradually whisk in the sugar until the mixture is smooth and slightly thick but still a pourable consistency (if it gets too thick, add a few more drops of orange juice). Drizzle over the rugelach and let the pastries stand at room temperature until the glaze firms up.