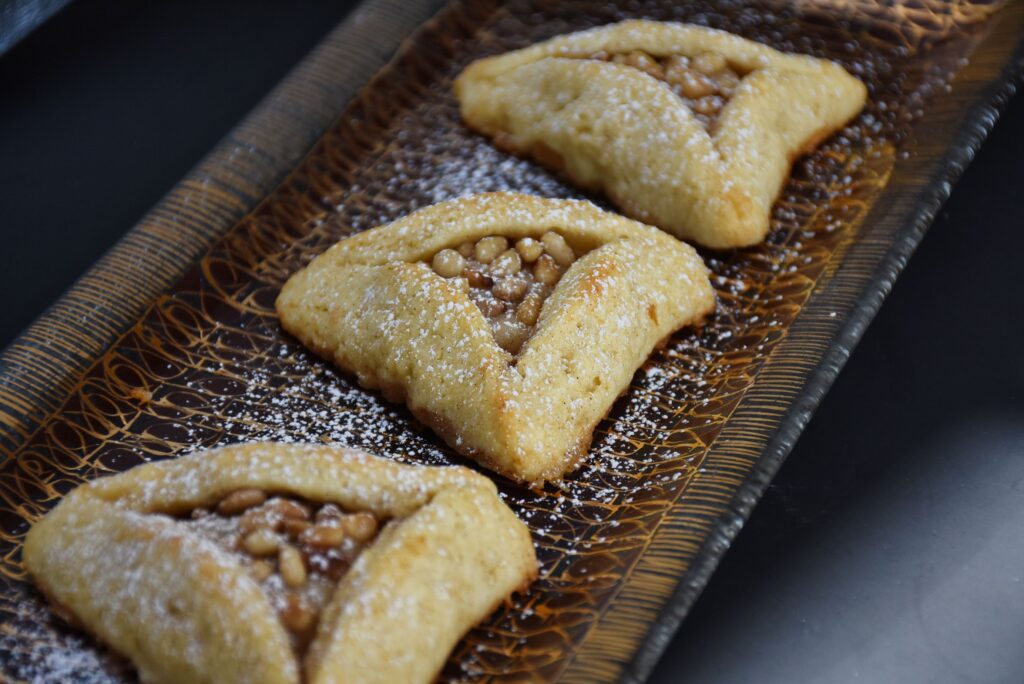 These hamantaschen are a love letter to Sicily, starring two iconic Sicilian ingredients—pine nuts and marzipan. 
The pine nuts particularly evoke the Jews of Sicily who called the island home going back more than 2000 years. When Arab conquerors introduced pine nuts—especially in combination with currants or raisins—Jews welcomed the ingredients into their repertoire, such as eggplant caponata. Spinach with raisins and pine nuts also became a Jewish favorite. And of course, pignoli cookies are an Italian specialty made in Sicily and throughout Italy. They feature almond paste and a coating of pine nuts that make them both humble and charming. 
Marzipan, a sweetened almond paste, also warmly reminds me of Sicily, the land of my great grandparents. When we visited in 2019, the colorful and intricately hand-painted marzipan confections shaped as fruit adorned every sweet shop and were almost too beautiful to eat—almost. We had the chance to walk by what used to be the Convent of the Martorana, where the story goes the nuns created marzipan fruits to impress the Archbishop, and succeeded so spectacularly that a new tradition was born.
The Sicilian Jews didn't make hamantaschen, but I'd like to think if they did, they would love this combination. In the triangle pastries, the marzipan and pine nuts harmonize flavors and textures beautifully. The recipe takes advantage of marzipan's sweet mild almond flavor and dense, chewy texture, which makes the filling less likely to leak out. The pine nuts nestle nicely into the marzipan, adding earthiness and hint of crunch. And then a generous coat of honey cinnamon butter (instead of egg wash) adds just the right amount of sweet richness. 
So…here's to Sicilian and Sicilian Jewish flavors and ingenuity, here's to Purim, and here's to Sicily with love and confections.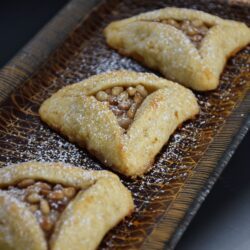 Marzipan Pignoli Hamantaschen with Salted Honey Butter
Marzipan and pine nuts—two foods traditional in Sicily—make a sophisticated hamantaschen accented by the buttery, sweet embrace of salted cinnamon honey butter. It's an exquisite blending of Italian flavors with the beloved Ashkenazi pastry tradition that produces an almost candy-bar like confection. Be sure to use marzipan and not almond paste for the recipe. 
Ingredients
For the dough
½

cup

(1 stick) unsalted butter, room temperature

⅔

cup

sugar

2

eggs

2

tablespoons

sour cream

1

teaspoon

vanilla extract

2⅔

cups

all-purpose flour, plus more as needed

¼

teaspoon

kosher salt

1¼

teaspoons

baking powder
For filling and topping
7

ounces

marzipan (not almond paste)

⅓

cup

pine nuts, lightly toasted and cooled (see note)

3

tablespoons

unsalted butter

3

tablespoons

honey

¼

teaspoon

kosher salt

¼

teaspoon

cinnamon

Confectioners' sugar for dusting, optional
Instructions
To make the dough
In a large bowl, cream the butter and sugar with an electric mixer or by hand. Blend in the eggs, sour cream, and vanilla extract. Fold in the flour, salt, and baking powder, adding more flour as needed to form a rollable dough.

Divide the dough into two balls. Between two sheets of wax paper, roll each ball to about ¼-inch thick. Wrap well and chill at least 1 hour but ideally overnight.
To make the hamantaschen
Preheat the oven to 400°F and line one or two baking sheets with parchment paper. Break off heaping teaspoon pieces of marzipan and flatten to thick disks.

Remove one dough sheet from the refrigerator and use a 3-inch cookie cutter or drinking glass to cut rounds.

Place a marzipan disk in the center of each round and firmly press pine nuts on top of marzipan to cover.

Run a finger lightly moistened with water around the outside edge of each round. Fold up to form a triangle with a little filling showing in the center, pinching corners firmly to seal. Press the top edges of the dough lightly toward the center of the pastry (this helps keep the hamantaschen intact during baking). Repeat with remaining dough sheet.

Transfer the pastries to the parchment-lined baking sheets and freeze 15 minutes.

Meanwhile, make the topping by melting the butter and stirring in the honey, salt, and cinnamon. Let cool slightly. It is ideal for the mixture to be a little thick, but if too thick to spread, microwave a few seconds.

Remove the hamantaschen from the freezer and brush all over with the honey butter, dabbing an extra thick layer on top of the exposed filling. Bake 8 to 10 minutes, until just lightly brown. Cool on a wire rack. If you like, dust lightly with confectioners' sugar before serving.
Notes
To toast pine nuts, place them in a single layer in a skillet over medium-low heat. Turn frequently until starting to show color, then stir constantly until lightly browned, about 5 minutes total. Remove from heat and let cool before using in the recipe.