Jump to recipe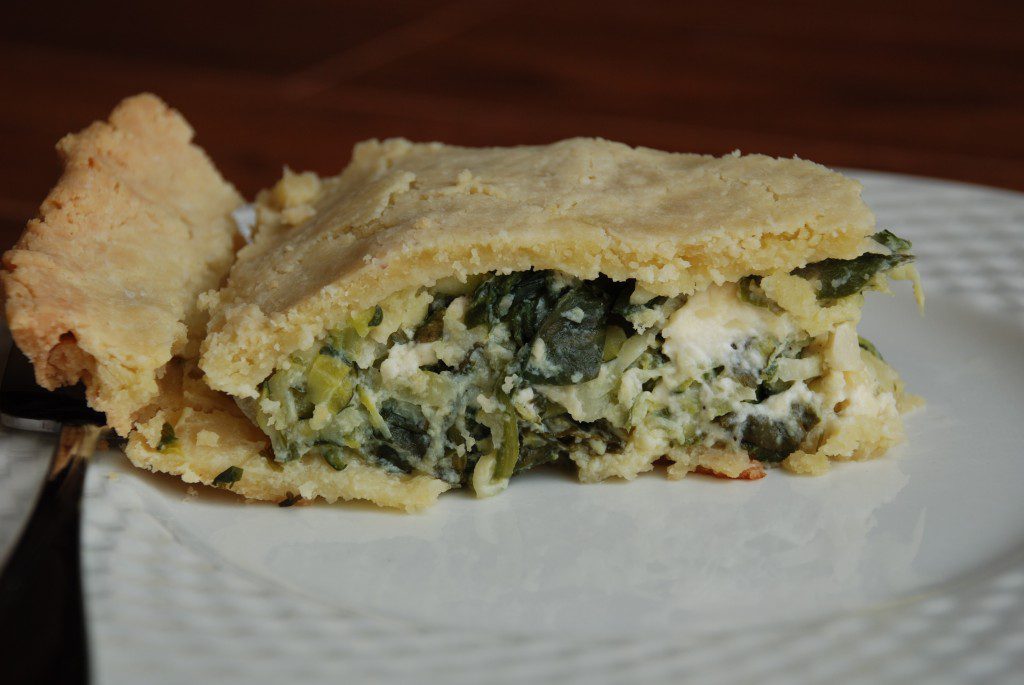 The love affair, if there ever was one, is probably over. Mid-week of Passover, and you'd be forgiven if you've had your fill of matzah. If you're like me, you might also have had enough chicken for one week. Thankfully, folks, we have options. This year, I'm smitten with the concept of vegetable pie.
The idea first sparked when I came across recipes for layered matzah pies, usually filled with meat and vegetables. These are traditional for Passover among Italy's Jews. They sounded very good, but I wanted to "consciously uncouple" with matzah. So that meant a little experimenting.
Thanks to gluten-free bakers everywhere, plenty of strategies exist for pastry dough featuring nut flours. My first one was literally a hot mess. But I played with various recipes and hit success with almond flour and olive oil. No, my crust doesn't flake like a buttery white flour crust. However, it does offer good structure plus mild nutty and olive oil flavors suited for a Mediterranean-themed filling—my next goal.
Maybe it's the spring season, but I longed for green. I filled my pie with zucchini, dill, parsley, and spinach plus tangy feta and just enough eggs to hold everything together. And some garlic, too—wait till you smell the aroma as this pie bakes in your oven.
Not only is this pie Passover-friendly, it is also vegetarian and gluten-free. It's festive and substantial enough to be a main or even Seder dish if you are going vegetarian (which we did for the second Seder this year). It also works as a breakfast or brunch dish. For those having an Easter brunch this weekend, this pie can even sub more healthfully for the traditional Italian Easter dish, pizza rustica, a cheese and meat stuffed pie. Leftovers keep well and taste great right out of the fridge.
Actually, there's no reason not to make this anytime. You can vary the fillings to suit your tastes. And if you don't need to avoid wheat or grains, you can use your own favorite crust recipe (or a store-bought crust). But right now, it makes me happy just to eat pie during Passover.
So, until next year, so long, matzah. And best wishes to all for the rest of the holiday/spring break week!
Mediterranean Zucchini, Dill, and Feta Pie

Take your taste buds to the Mediterranean with this savory, vegetarian, gluten-free, and Passover-friendly pie. An almond flour crust envelops a generous helping of zucchini as well as spinach, dill, parsley, feta, and eggs. It tastes fresh and light yet substantial. You can make the pie in advance and reheat it at serving time. Or eat it cold—it tastes great that way, too. You'll need a 9.5-inch deep-dish pie plate (preferably glass), and, if you have one, you can use a food processor instead of a box grater to shred the zucchini.

Notes
If you don't need to avoid wheat or grains for holiday or dietary reasons, you can use your own favorite unsweetened pastry dough recipe for the crust.

Ingredients
Crust
21/2 cups almond meal/flour (preferably blanched)
1/3 cup potato starch, plus extra as needed
1/2 teaspoon kosher salt
1/4 cup extra-virgin olive oil
2 large eggs, lightly beaten
Pie
4 medium zucchini (2 to 2 ¼ pounds), ends trimmed
1/2 teaspoon kosher salt
Extra-virgin olive oil
1 large onion, finely chopped
Kosher salt and freshly ground black pepper
3 large garlic cloves, minced
5 ounces baby spinach
1 cup finely chopped dill
1/2 cup fresh parsley, chopped
11/4 cups crumbled feta
3 eggs, lightly beaten
Instructions
Using the large holes on a box grater, grate zucchini into a large colander. Toss with ½ teaspoon of kosher salt and set the colander over a bowl to drain for 1 hour, periodically pressing the zucchini to squeeze out more liquid. Use a towel or paper towels to squeeze out any remaining liquid and then transfer zucchini to a large bowl. Discard the liquid.
Meanwhile, make the crust. Combine the almond flour, starch, and salt in a medium bowl. Add the olive oil to the eggs and stir the wet ingredients into the dry to make a dense dough. Add a little additional potato starch if it seems too liquidy, but it should be moist. Divide in half, and press each half into a disk on a sheet of plastic wrap. Wrap tightly and freeze one (which will be the bottom crust) for 10 minutes and refrigerate the other (which will become the top) until ready to use.
Preheat oven to 350 degrees. Remove the dough from freezer. Roll out between 2 sheets of wax paper. Transfer to a 9.5-inch deep-dish pie plate, and reshape as needed to cover and create a small rim. Transfer to the oven and bake 10 to 12 minutes, until just starting to turn golden. Remove to a cooling rack.
Heat a thin layer of olive oil in a large skillet over medium heat. Add the onion and season lightly with kosher salt and black pepper. Stir frequently until tender, about 5 minutes. Add the garlic, and sauté one more minute. Add the spinach, and use a large spatula to turn it until it wilts. Add spinach mixture to the drained zucchini, then stir in the dill, parsley, feta, eggs, and more black pepper to taste. Transfer to the pie dish.
Remove the second piece of dough from the fridge and roll out wide enough to cover the top of the pie. Transfer to the pie, patching any holes and crimp the ends to seal. Slash at least 6 holes in the crust to let steam escape. Transfer to the 350-degree oven and bake about 50 minutes, until golden brown. If the edges are browning too quickly, cut a circle of foil with a doughnut hole and place it over the pie to protect the edges.
Remove from oven and transfer to a cooling rack. Let cool 20 to 30 minutes before slicing. Can be served warm or at room temperature.
To make ahead, cook the pie as directed. When cool, cover and refrigerate. To serve, reheat uncovered for 45 to 50 minutes in a 275-degree oven.
© 2023 Copyright Marcia A. Friedman - www.meatballsandmatzahballs.com