Jump to recipe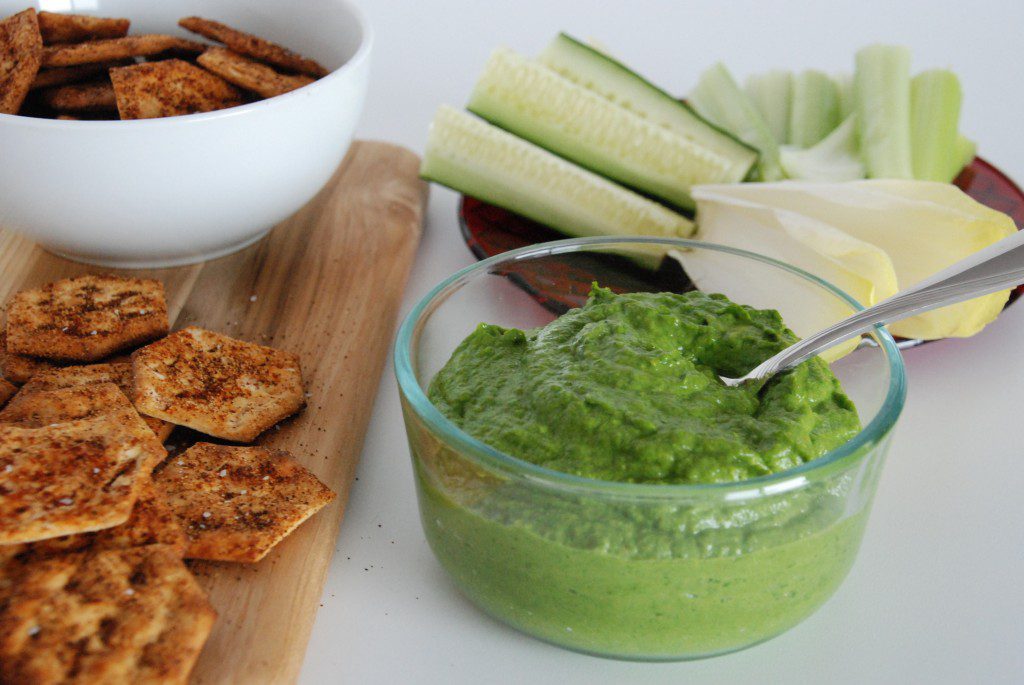 A request for a nondairy "green" dip for Passover this year got me thinking about what I could make using as many fresh ingredients as possible—as well as thinking about Passover challenges from previous years. On the Jewish Food Experience Web site, read my featured post about this new original recipe.
Avocado, Spinach, and Pickled Jalapeño Dip

When asked for a "green" dip for Passover, I turned to avocado and roasted garlic for creaminess, spinach and parsley for extra green and flavor, and quick pickled fresh jalapeno for a little zing. The colorful and smooth result does have a little heat; use less jalapeno if you prefer. Vegetables make fine dippers for this, but I also created some spiced crackers with great flavor and crunch. The fresh versatility of this vegan treat transcends Passover—outside the holiday, you can also use it as a sandwich spread or, thinned with water, a sauce for anything.

Ingredients
For the Pickled Jalapenos
¼ cup white vinegar
¼ cup water
1 tablespoon sugar
1 teaspoon kosher salt
1 medium jalapeno pepper, halved, seeded, white pith removed, and cut into four pieces
For the Dip
6 cloves garlic with paper skins on
1 tablespoon extra-virgin olive oil, plus more as needed
2 tablespoons fresh lime juice (from about 2 small limes)
5 cups baby spinach (one 5-ounce bag)
1 large ripe Hass avocado, peeled and pitted (about 1 cup avocado flesh)
2 tablespoons fresh parsley leaves
¼ teaspoon paprika
½ teaspoon kosher salt
For the Crackers
1 box (approximately 8 ounces) lightly salted crackers (such as kosher for Passover Tam Tams)
2 tablespoons extra-virgin olive oil or more as needed
Chili powder
Onion powder
Paprika
Kosher salt
Instructions
Preheat the oven to 350 degrees (for the crackers).
To pickle the jalapeno, combine the vinegar, water, sugar, and 1 teaspoon kosher salt in a microwave safe cup or bowl, and heat on high 1 to 2 minutes, until boiling. Stir to dissolve. Stir in the jalapeno pieces and set aside for about 10 minutes, stirring once or twice (the peppers will lighten slightly in color). Drain and discard liquid.
Meanwhile, heat a small skillet over medium-high heat and add the garlic cloves. Roast, turning cloves once or twice, until lightly browned and softened. Remove and cool slightly before removing the skins and tough stem ends.
While those items are underway, add 1 tablespoon of olive oil, lime juice, spinach, avocado, parsley, paprika, and ½ teaspoon kosher salt to a blender. When the garlic and peppers are done, add them to the blender as well and process until smooth. The mixture might be hard to blend at first; stop and scrape down the sides every 10 seconds or so and add more oil, a few drops at a time as needed, to get the mixture to become smooth. The dip is best served right away but can be refrigerated for up to 24 hours (stir in any liquid that separates out) before serving.
To make the crackers, line two large rimmed baking sheets with aluminum foil. Place the crackers in a large sealable bag or a large bowl and toss with olive oil to coat. Spread crackers in a single layer on the two prepared pans. Sprinkle the tops evenly with chili powder, onion powder, and paprika, and finish with a light sprinkle of kosher salt.
Bake in the 350-degree oven for about 8 minutes, rotating the pans halfway through, until the crackers are mostly dry and the spices very fragrant. Remove and serve warm with dip, or let come to room temperature and store in a sealed bag until ready to use.
© 2023 Copyright Marcia A. Friedman - www.meatballsandmatzahballs.com