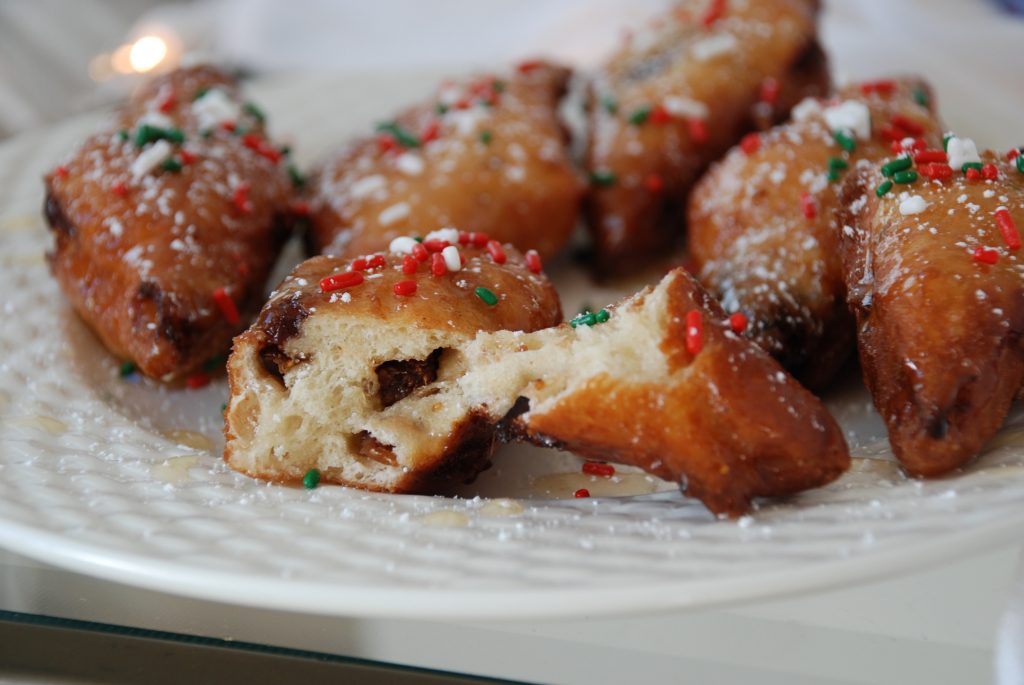 Like a doughnut, but better. These fritters are less fussy to make, wonderfully chewy and flavorful—and they have a Jewish-Italian connection that I love. Plus, most fittingly for when holidays overlap, in Italy, similar versions are enjoyed for both Hanukkah and Christmas celebrations. Below you will find an article I wrote in 2016, and after that, some photos and highlights of recipe steps, followed by the printable version of the full recipe (you can skip straight to the recipe by clicking the "Jump to Recipe" button at the top of this post).
—
Jewish-Italian Hanukkah Fritters Article (originally written for Jewish Food Experience in 2016):
If you were to go to Italy in late December, you might notice the aromas of frying. But it would not be from potato latkes. No, instead it would be from fritters, bites of dough deep-fried to perfection and served warm with honey. And it's not just Italian Jews that serve this treat; it is popular for Christmas, too. With the two holidays overlapping, I was inspired to explore the fritters that the Jews call frittelle di Hanukkah and other Italians might know as ciccitielli or pignolata—and what everyone calls delicious.
The roots for this recipe go way back in history—there's a rudimentary version recorded by a Roman from around 160 BCE! Those days and well into the 19th century, there either was no such thing as a home oven or only the wealthiest citizens could afford one. That made frying—especially in regions like the Mediterranean with plentiful oil—one of the primary methods for creating a pastry at home. Even after cooks gained more methods and ingredients in modern times, though, the honey-enrobed fritter in its simple goodness remains beloved.
People all around the world have versions of sweet fritters, but the hallmarks of a Mediterranean version are olive oil and anise. The fritters are usually made with yeast, though some more recent recipes use baking powder. Sometimes they include dried fruit and pine nuts. The Italian Hanukkah version is often cut into diamond shapes, whereas the Christmas version might be cut into squares or other shapes. There's also a related Christmas confection in Italy known as struffoli or la cicerchiata—tiny deep-fried dough balls that are coated in honey and then gathered into shapes like pyramids or rings. Italian Jews have a Hanukkah version of this called precipizi.
The original yeasted bread and honey fritter particularly intrigued me for several reasons beyond the deep historical roots of the recipe. As a Jewish convert whose Catholic great-grandparents came from Sicily, I enjoy and feel grounded by the intersections of Jewish and Italian food and life. As someone whose extended family celebrates Christmas and who knows many interfaith families, I delighted in finding a pastry that was meaningful to both celebrations.
The basic bread dough recipe is very good, but for our modern palates and for this year's Hanukkah and Christmas convergence, I wanted to update the flavors and textures. For the liquid, substituting whole milk for the water resulted in a more tender and flavorful fritter (but you can use water if you need a nondairy version). I kept the traditional anise seeds, which are featured in many Italian sweets, but also added cinnamon, vanilla, and a touch of honey to the dough for their warm flavors.
Instead of raisins, for the fruit I turned to chopped dried figs. From a flavor standpoint, I much prefer their sweet richness (which pairs beautifully with the anise) and their chewy texture that's delightful within the fritter. On a symbolic level, figs appeal in several ways. They feature prominently in Sicilian Christmas cookies and thereby hold a little link for me to my Italian side as well as to Sicily, where Jews lived relatively peacefully for thousands of years. In Israel, figs are one of the seven species named in the Bible as important to the ancient land. And finally, the biblical term "under his fig tree" often signifies peace and prosperity—things typically wished for during the end-of-the-year celebrations.
To the honey coating, I added a little Sambuca (Italian anise-flavored liqueur), which adds an almost floral fragrance to the fritter that envelops and enhances all the elements of the pastry. Each bite is a decadent mixture of smooth and sweet honey, tender and lightly spiced dough, chewy figs, and subtle anise flavor.
I like to think my great grandparents, who maybe had their own fritter recipe that they made for Christmas, would like my version. As I make these fritters, I also like thinking how, in their ingredients and shared heritage, the pastries represent a sweet coming together—and also hope and good will for everyone this holiday season. 
—
Some Recipe Highlights and Process Photos:
Below are a few pics and highlights of some of the steps of the recipe, followed by the recipe.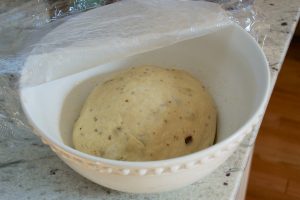 Make the yeasted dough the night below and allow it to rise overnight in the refrigerator. Then you can work with it whenever you are ready the next day.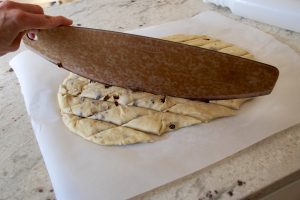 Diamonds are the traditional shape, and my pizza cutter made quick work of cutting the rolled-out dough. You can make any shapes you like; keep in mind the dough will puff and the shapes will distort some when you fry them. (In other words, don't obsess over perfect shapes.)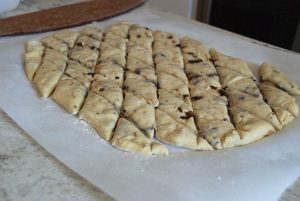 Make sure you get clean cuts, though, so the shapes will pull apart when ready to fry.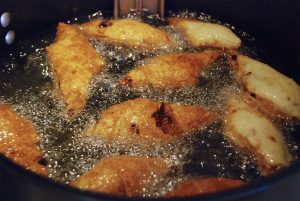 The oil should be about 375 degrees. The fritters fry quickly, so have a paper-towel lined plate standing by. Almost as soon as you drop the last one in, the first ones you put in will be golden brown on the bottom and ready to turn. Tongs are handy for this job. The nice part of the quick frying is that you don't spend all that much time dealing with the hot oil.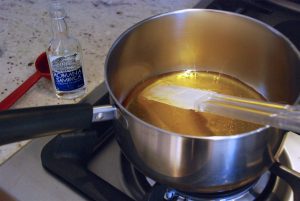 For the coating, heat the honey to a low boil. Add Sambuca (the Sambuca flavor really elevates these but you can of course omit it if you prefer and just use the warmed honey). That's it! You can drizzle the honey on the warm fritters or gently toss them in the honey if you prefer a heavier coating. The fritters look nice with a dusting of confectioners' sugar or, if you like colored sprinkles, a light sprinkle of those can be very festive. Enjoy them warm. If you need to make them a little in advance, place the fried fritters on a baking rack positioned over a baking sheet and keep warm in a 200-degree oven. When ready to serve, add the honey and any decorative topping.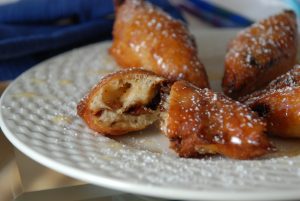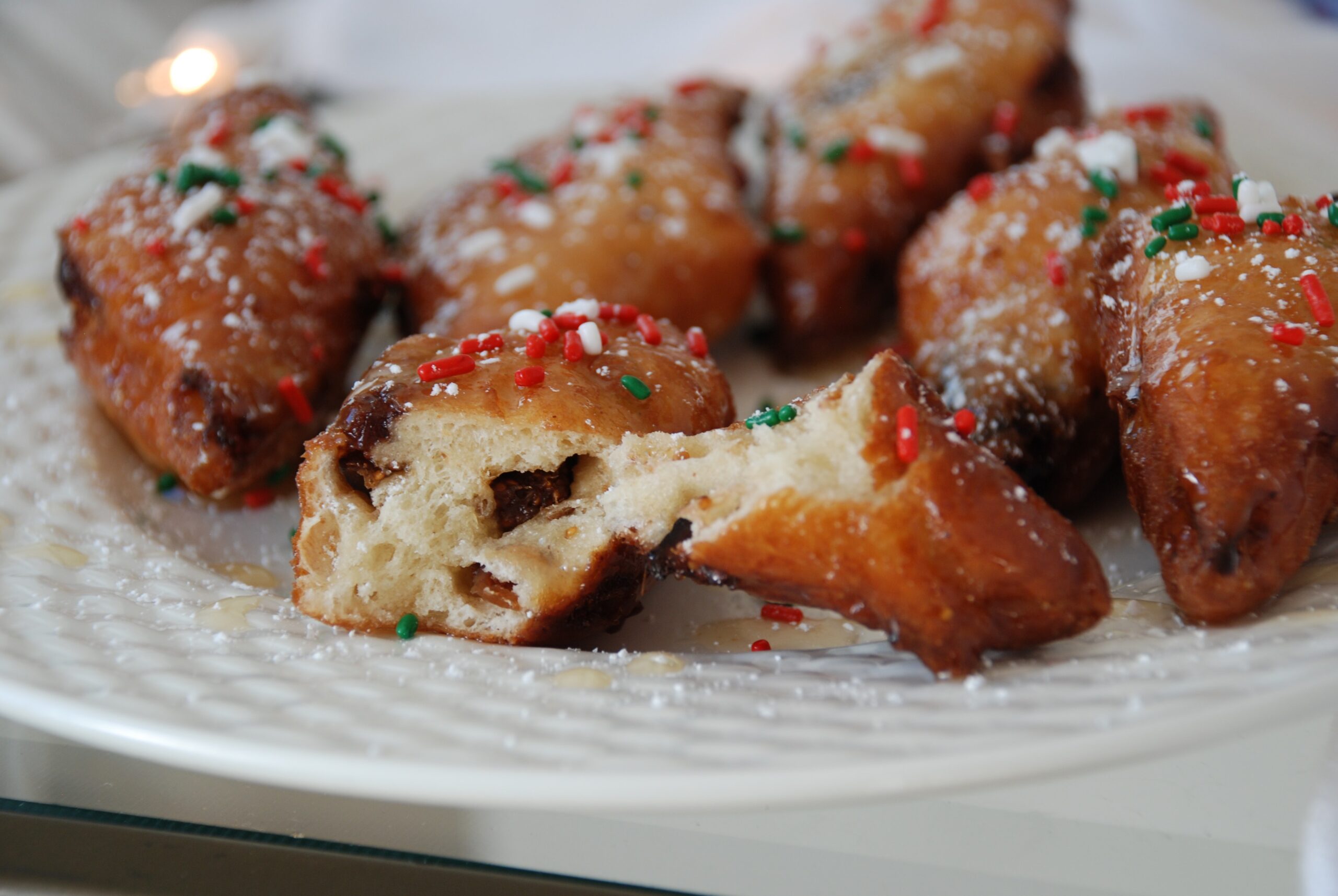 Hanukkah Fritters (Frittelle di Hanukkah) with Figs and Sambuca Honey
At Hanukkah time in Italy, there aren't many potato latkes. But there are fritters of all kinds, and a bread-like fritter with anise, olive oil, and dried fruit and honey is one of the Jewish-Italian classics. It's easy to see why, especially with this updated version featuring sweet figs along with the little anise seeds that burst into flavor. The Sambuca in the honey gives a hint of warm spicy fragrance and delicate anise flavor. If you like, sprinkles in the colors of Italy's flag (red, green, and white) are a festive touch. The fritters taste best (and the dough is easier to work with) if you let it rise overnight or 24 hours in the refrigerator.
Ingredients
For the Fritters
1

package (2¼ teaspoons) active dry yeast

1

cup

whole milk, heated to about 90 degrees

1

teaspoon

salt

1½

teaspoons

anise seeds

1

teaspoon

vanilla extract

2

tablespoons

extra-virgin olive oil, plus additional for coating the bowl

2

tablespoons

honey

¼

teaspoon

ground cinnamon

3¼

cups

all-purpose flour, plus more as needed

1

cup

finely chopped dried figs, approximate ¼-inch pieces, with tough stem ends discarded

Neutral oil, such as canola or vegetable, for frying

A deep-fry or candy thermometer for monitoring oil temperature

Confectioners' sugar for dusting, optional

Red, green, and white sprinkles for decorating, optional
For the Drizzle
1

cup

of honey, preferably orange blossom

2

tablespoons

Sambuca or other anise-flavored liqueur, or water
Instructions
In a large bowl, combine the milk with the yeast, and let the mixture stand until yeast is dissolved, about 5 minutes.

Meanwhile, coat another large bowl with olive oil and set aside.

Add the salt, anise seeds, vanilla, oil, honey, cinnamon, and 2 cups of the flour to the yeast mixture and combine well. Gradually stir in additional flour as needed to make a soft dough.

Transfer to a lightly floured surface and knead until smooth and elastic, 5 to 6 minutes. Knead in the figs in 3 or 4 additions. Shape the dough in a ball and place in the bowl coated with olive oil. Lift the dough out, turn it over, and place the un-oiled side down in the bowl. Cover the bowl with plastic wrap and refrigerate overnight.

The next day, about 15 minutes before you are ready to work with it, remove the dough from the refrigerator. Press down on the plastic wrap to compress the dough and let it rest covered, 15 minutes.

Tear off a large sheet of parchment paper and lightly dust with flour. Place the dough on the parchment and press or roll it into a ½-inch thick rectangle, roughly 9-by-15 inches. Using a pizza cutter or very sharp knife, cut the dough into approximately 1- to 1½ -inch-wide strips, then cut diagonally across them to make diamond shapes (squares or cookie cutter shapes are fine, too). Cover with oiled plastic wrap and let rest 35 to 40 minutes.

After about 20 minutes, add oil to a large deep-sided pan to a depth of about 1½ inches. Warm it over medium heat to 375 degrees.

Working in batches so as not to crowd to the pan, drop the dough shapes into the hot oil. When the bottoms turn light golden brown (after 20-40 seconds), turn fritters over with tongs or a slotted spoon to brown other side (another 30 seconds or so). Remove to a paper-towel lined plate to drain. Repeat with remaining fritters.

Add the honey to a saucepan and heat to a low boil. Reduce heat and cook another minute. Remove from heat and stir in the Sambuca. Place the fritters on a platter and liberally drizzle the honey over them (or, alternatively, put them in a wide shallow bowl and toss with honey to coat all over). If desired, sprinkle with confectioners' sugar and colorful sprinkles. Serve hot or warm.